Botox In Chevy Chase, MD
Botox and Dysport are two products that nearly everyone has heard of. What most people don't know is just how many different uses they actually have. As the most popular cosmetic procedure, Botox and Dysport have proven their ability to please millions of people for a variety of reasons.
Botox in the right hands has spectacular results. Injected into frown and worry lines, around the eyes or "crow's feet" and the forehead can help you look years younger, refreshed, less tense and more confident.
Botox injections are extremely quick and performed with a tiny needle. Most patients liken it to a light pinch. You can go back to work or your usual activities right after your appointment. Effects are apparent in 4 to 7 day and last about 4 months.
Botox and Dysport can also treat hyperhidrosis (excess sweating). Typically, the axillae (armpits), hands and feet are treated. The effect usually lasts 6 months.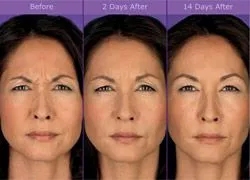 Courtesy of Botox
| For more information visit the
Botox
and
Dysport
site
---
AGE 45, SEVERE GLABELLAR LINES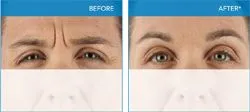 After photo taken at maximum frown 7 days after injection.
AGE 39, SEVERE GLABELLAR LINES


After photo taken at maximum frown 14 days after injection.
AGE 53, MODERATE GLABELLAR LINES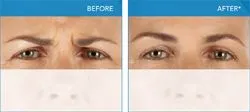 After photo taken at maximum frown 14 days after injection.
AGE 31, MODERATE GLABELLAR LINES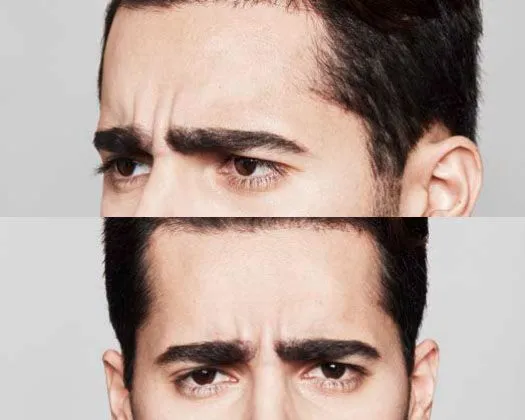 BEFORE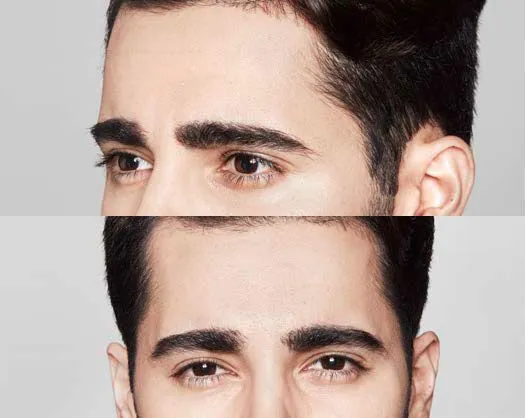 AFTER
After photo taken at maximum frown 16 days after injection.

BEFORE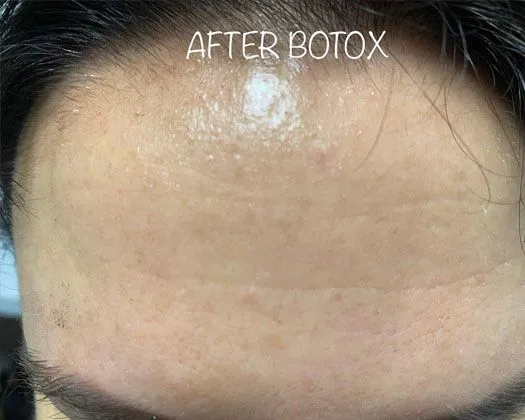 AFTER
---
Is Botox right for me?
If you are on the attack against wrinkles, whether treating existing lines or preventing new ones, Botox is a secret weapon. The injectable is primarily used to treat frown lines, forehead creases, and crow's feet, but is also used in other areas, including lips, lower face, neck, and even downturned smiles.
How much does Botox cost?
The national average cost of Botox is $550 , but will depend on the treatment area and how much of the injection is required. Our office charges by treatment site. Touch up treatments, if needed, are included in the cost of treatment.
What happens on the day of Botox?
The day of your Botox treatment likely won't be very different from any other day. Your Botox provider will make a series of injections in the desired area(s). Then you are on your way.
What's the recovery time?
You should be able to resume normal activity immediately after your injections are done. You might have some redness or slight bruising after, but it should dissipate quickly.
Doctors recommend patients do not lie down for at least four hours following injections to prevent any possible migration to unintended areas of your face. They also suggest avoiding vigorous activity, especially those activities that might involve straining or bending down for at least a few hours and up to a day. You should not rub the area aggressively or get a facial massage for at least 48 hours after your injection.
What results can I expect from Botox?
The procedure should reduce the wrinkles and lines in your face, giving you a more youthful look. The results last roughly three to four months before wearing off. At that point, you need another round of injections to maintain the results. Sometimes, individuals see results lasting longer, but this is usually due to the fact that muscles have been trained to frown and the Botox puts them at rest.
Many people see results within four to five days, but it could take up to two weeks for full results to show . Deep wrinkles should show improvement shortly after treatment and could continue to gradually improve over time.
What are the possible side effects or risks?
If injected properly, Botox side effects should be minor. Some patients experience bruising or redness immediately after the injection. Those effects should last for only a couple of hours. This can be minimized by holding pressure over the areas injected if a bruise or immediate swelling occurs. A small bruise at the injection sites are possible but they are usually covered easily with make up.
Others reported getting headaches following injections. Headaches from Botox are a rare side effect that should resolve within 24 hours.
What else do I need to know about Botox?
If you are unhappy with your Botox result, the good news is it isn't permanent. The bad news is the only real solution is time. The results will gradually disappear, but the process will likely take three to four months.
Does Botox hurt?
You may experience brief, mild discomfort during the injection, but you can be assured that the treatment is very safe and effective. Some patients say it feels like acupuncture, some say the [preparation] ice hurts more than the needles. Botox in the crow's feet (eye wrinkles) hardly hurts at all. Botox in the frown lines is a little bit more painful. Topical anesthetic can be used to numb the skin beforehand, but most people don't bother with it.
---
Jeuveau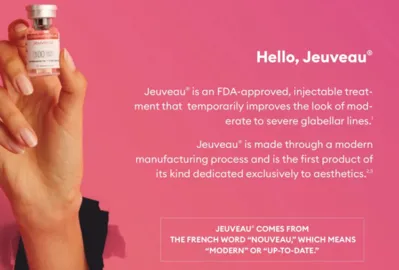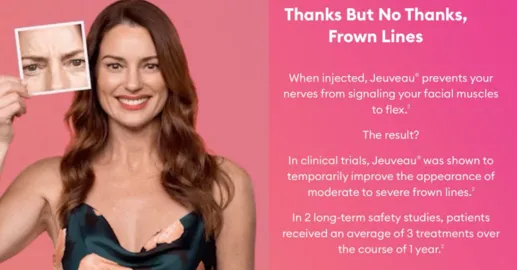 Want to learn more about how Botox can help you?
Call (301) 951-7905 to book an appointment today!