Laser hair removal offers a safe and comfortable way to remove unwanted body hair.Unlike other hair removal procedures that focus on individual hairs, laser technology is able to treat large areas of hair at once. The laser targets the pigment in the hair follicle transmitting heat to the entire follicle. Because the laser targets the pigment in the hair follicle, patients with dark hair respond best to treatment. Patients with blonde or gray hair do not respond to treatment. By using a laser with the correct wavelength, using a cooling device and adjusting the treatment level, most skin types can be treated safely.
Laser hair removal requires 6 to 10 treatment sessions to achieve the optimal cosmetic outcome. Treatments are scheduled 6 weeks apart to maximize targeting hair during the active phase of the three phases of hair growth.
What to expect:
No waxing, plucking, and threading 2 weeks before treatment, it is OK to shave
No suntanning before treatments
No downtime
Permanent reduction in hair volume
It is necessary to schedule a consultation with the physician to determine if your hair and skin type is appropriate for our laser. Please call our office with any questions, (301) 951-7905.
Before and After Photos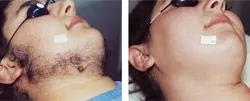 What are the most popular areas for laser hair removal?
The most popular areas are female facial hair, bikini line hair and back hair for men.

How is laser hair removal different from electrolysis hair removal?
Laser hair removal is much faster. Electrolysis hair removal requires more time because it's a process that treats only one hair at a time, whereas laser hair removal treats many hairs per every laser pulse. Laser hair removal for an area like the underarms for example can be treated in only 20 minutes.

Is the Alexandrite laser the best choice for my skin and hair?
The Alexandrite laser is considered by many in the field of laser hair removal to be the gold standard laser. This is true if you have a lighter skin type. The Alexandrite laser uses a longer wavelength for penetration to the hair follicle and energy that is particularly attracted to melanin - the target for hair removal. However, if your skin is darkly pigmented you will get the best results with a laser specifically designed for your skin type - the YAG laser. At Chevy Chase Dermatology Center, we have a Alexandrite laser. If your skin is darker, we can refer you to a practice that has the appropriate laser for you.

What are the risks of hair removal?
Laser hair removal is a lunch time procedure. There is no recovery time. Patients can return to work or play immediately. These lasers do not remove skin, so the risks are very low. As with any procedure, we have an informed consent that explains all the possible risks.

Is laser hair removal painful?
People have compared laser hair removal to a rubber band snapping against the skin. Compared to waxing the treatment has very little discomfort. Everyone's pain tolerance is different. If you do find it uncomfortable, we can prescribe a numbing cream for the skin.

Is laser hair removal painful?
People have compared it to a rubber band snapping against the skin. Compared to waxing the treatment has very little discomfort. Everyone's pain tolerance is different. If you do find it uncomfortable, we can prescribe a numbing cream for the skin.

Is laser hair removal permanent?
Laser hair removal is permanent hair reduction , not permanent hair removal. It's not uncommon for patients to require maintenance treatments once a year, even after the area has been fully treated. The reason: The laser targets and destroys your current hair follicles, but new follicles can develop thanks to hormonal changes or shifts in weight.

What Are the Risks of laser hair removal?
Risks include blistering, scarring, and burns that can discolor your skin. It's normal for there to be some redness and swelling. The most important part of laser hair removal is picking the correct patient for the procedure. At Chevy Chase Dermatology Center, we are experts at treating patients with this laser.

Will laser hair removal be covered by my insurance?
Laser hair removal is not covered by insurance. Insurance companies deem this procedure as a cosmetic procedure.


What should I do after laser hair removal to protect my skin?
After laser hair removal, Dr. Toerge and staff, request that you do not tan outdoors and apply sunscreen every two hours that is SPF 30 or higher if you are in the sun.

What information should I tell Dr. Toerge and staff before my laser hair removal procedure?
Please let us know if you have a tendency to scar, a recent tan, ever had a keloid (type of raised scar), a tendency to get outbreaks of cold sores or genital herpest, taken isotretinoin (a medicine used to treat severe acne) — or are taking any other medicine, including medicine that you buy without a prescription, such as aspirin.

When will I see the results after having laser hair removal?
You will likely see the results immediately after treatment. The results vary from patient to patient. The color and thickness of your hair, area treated, type of laser used, and color of your skin all affect the results. You can expect a 10% to 25% reduction in hair after the first treatment.

To remove the hair, most patients need 2 to 6 laser treatments. After finishing the treatments, most patients do not see any hair on the treated skin for several months or even years. When the hair regrows, there tends to be less of it. The hairs also tend to be finer and lighter in color.

How long will the results of laser hair removal last?
Most patients remain hair free for months or even years. When some of the hair regrows, it will likely be less noticeable. To keep the area free of hair, a patient may need maintenance laser treatments.


Will Chevy Chase Dermatology's laser Work on My Skin Type and Hair Color?
Laser hair removal works on almost every skin type—from very light-skinned people (or what's known as Type I on the Fitzpatrick scale, a skin-typing test) all the way up to Type V or even VI (which is dark skin). Some terminology to know: Light-skinned people will usually receive treatment from an Alexandrite (The laser at Chevy Chase Dermatology Center), while darker-skinned people will receive treatment from an Nd:YAG laser. If you have a darker skin type, please schedule a consultation to see if our laser is right for your skin type.


Blonde, gray, or light red hair is difficult to treat. Blondes and redheads need a consult to know if the laser treatment will work for them. Gray hair is smaller areas is best treated with eletrolysis.
---
Laser Hair Removal
Pre Laser Instructions:
Please arrive for your appointment with your treatment area prepared in the following manner:
Do not wax or pluck hair in area to be treated for one month before your treatment. You may shave or use Nair.
Please shave all areas to be treated the morning of your treatment leaving a quarter size spot for us to see the texture of the hair.
Skin may not be tan.
Keep in mind that the treatment is most effective if there is very little hair on the surface and the skin is in good condition. Laser hair removal targets the root of the hair, not the surface of the hair.
You will not receive laser treatment if your skin is tan or if you have been taking antibiotics within a week prior to your treatment. We will also not treat any areas that have active herpes lesions, or venereal warts. This is a safety measure in the interest of both the patient and the technician.
Kindly notify our office at least 24 hours before your scheduled appointment if you need to reschedule or cancel. A $50 fee will be applied to your account if you do not give us 24 hours notice (applied to the cost of your next treatment).
Post Laser Instructions:
Your skin may be red and bumpy for several hours after your laser hair reduction treatment. We recommend you use a moisturizing skin lotion for the next 48 hours. After your treatment, apply the lotion generously to the treated area 4 to 6 times before going to bed.
In 3-5 days, the shedding process will begin. You will notice small hairs pushing their way out of the skin. This is not new hair growth. It is the remainder of the hair that did not vaporize during treatment. You may use a gentle exfoliant to speed this process. If you are a skin type 3 or higher, you many need to use bleaching cream. This should be applied to the treatment area twice a day for three weeks before your next treatment to prevent pigment changes. Check with your laser technician to see if you have a skin type that would benefit from bleaching cream.
Use suntan lotion with an SPF of 30 or greater for at least two weeks following treatment and time you will be in the sun. Do not use a tanning booth or tanning lotions on the treatment areas 2 weeks after treatment.
We request that you wait until you have new hair growth to schedule your next appointment This will take anywhere from 6-12 weeks (or longer). If you are not sure, please stop by our office and ask the laser technician if you have enough re-growth to schedule another appointment.